Swimmingly Stylish Suits for Summer
Posted on April 15, 2013 @ 09:57 Monday by Gandzee |
0 comments
Summer is around the corner, and while you won't find swimsuits in any of Gandzee's wardrobe collections, we've got some suggestions for where you can score some cute kids' suits that will get your summer off on the right foot.
I look for a few things when I'm shopping for a kid's bathing suit. Obviously, it's got to jump off the rack at me with its teeny tiny adorableness but it's also got to pass the muster when it comes to quality and comfort.
When I shop for swimsuits, I'm looking for a nylon/lycra blend that's got some beef to it--my kids spend hours jumping off of, sitting on and hauling their hineys up onto the side of the pool, and the non-slip surface breaks down cheap swimsuits lickety-split. When I buy my children's bathing suits, my goal is always to get to Labor Day with the suit's backside still in tact. Starting with a suit that's made from a high quality blend helps with that.
Comfort is paramount in the swimsuit department and it's particularly important when it comes to little girls' suits. As women we don't like it when we're constantly yanking at our swimsuits, so why should it be different for our daughters? The teeny weeny bikinis are adorable but I'm always on high alert when I shop for them, asking myself whether I think the top will stay down over her tummy and whether there's enough fabric for cover her backside.
So the name of the game is fashion, quality and comfort and when you've found a suit that meets those three criteria, you've hit the mark! Here are some of the suits I'm loving this summer:
For girls, a good SPF suit is not only in style but a great choice for sun protection. I love the style on this suit with its floral accents and flowy skirt.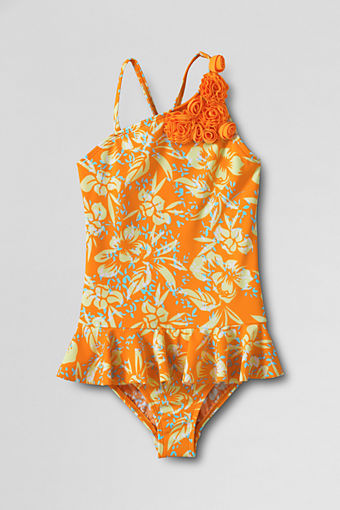 If you prefer a two-piece option for little one who needs quick changes, this suit also fits the frilly, flowery bill. And the beautiful shade of pink--a constant fave with my daughter--is what sells it! Ha.
This one-piece in a sweet seersucker with embroidered hot pink flamingos is so adorable! But, what really makes it unique are the snaps at the bottom, which is truly a time saver when it comes to bathroom breaks and the removal of sand in the tush! Yay for that!
For the little guys, you can't go wrong with these bodysuits with SPF. The fun patterns will no doubt make your little men beg to go for a swim.




And for the even-smaller-still guys, we love these trunks because of the snaps on the bottom. No need to wrestle with them in the hot sun. These will make it easy when it comes time for a change, which we all know happens the minute you get onto the sand!
I hope these great swimsuit options put you in the mood for sun and fun. Tell us what you think! Any favorite swimsuits this season? What are your favorite go-to timesavers for pool and beach fun?